Time for a new adventure! For the first time, we're turning our bike towards Europe for an 8-week trip on the Danube, Main and Rhine Rivers. Friends from Spokane did the same thing in reverse, but on a 15-day canal boat trip following the map below. We'll cover pretty much the same territory, but with the added flexibility of our tandem, not to mention the time to explore far more thoroughly.
We had the travel all booked when, to our surprise, the word "Schengen" struck terror through our plans. Most of the EU belongs to the "Schengen Zone," where travel is unrestricted for Americans once they get in, except for a tiny little detail that had previously escaped us -- the time limit. Once you touch down in the Schengen Zone, you may as an American only spend 90 out of the next 180 days there. Leaving stops the clock, but does not reset it. We looked at our plans, and counted 108 days. Oops! So back to the drawing board, and we came up with a 19-day visit to the UK, which is NOT in the Schengen Zone. We'll take a ferry there and back from the Hook of Holland, and do a loop around the area known as East Anglia, prior to our departure from Amsterdam.
Even though we're biking in Europe, we figured out a way to start our trip on Amtrak. In fact, we're taking Amtrak pretty darned near as far as you can go without looping back. We start of course in Seattle on April 21, and hop off one stop from the end in Ft. Lauderdale, for a few days in the sun. THEN, on May 1, we board the Celebrity
Infinity
for our trip across the Atlantic, in style. 12 days later we hop off in Harwich, England, with no jet lag.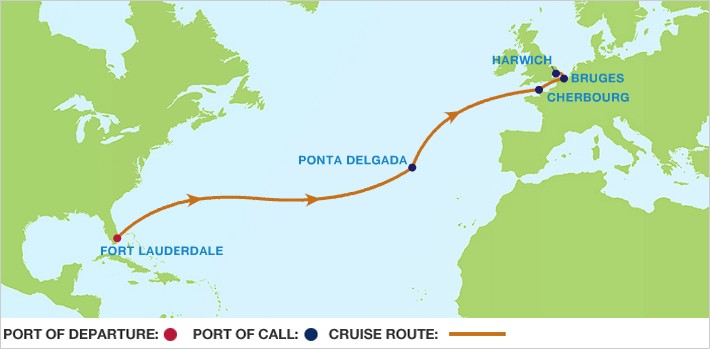 However, where we
really
need to be to properly start our adventure is Amsterdam, so as soon as we hop off the
Infinity,
we move a short ways by cab past the docks of Harwich to the Stena Lines terminal, from which the ferry
Brittanica
will take us on a 6
½ hour crossing of the North Sea. On the Dutch side our boat will be met by a train that will take us right into Amsterdam! One more taxi ride and we'll be in an apartment in a centuries-old building near one of the city's many canals for a three-night stay.
Up to this point, the tandem will be hiding, in many wrapped pieces, inside two gray suitcases. The biggest unanswered question of the whole summer trip is -- what happens next? We're hoping that the Dutch and German trains we take 3 days later to Vienna via Berlin will let us take the tandem assembled. After much searching of the web, the answer so far is that we have to ask the question when we're in Amsterdam. If yes, we leave the cases behind with the son and daughter-in-law of dear friends, who live and work in Amsterdam. If not, we take the cases to Vienna, assemble the bike there, and FedEx the empty cases to Amsterdam (yes, FedEx is in Europe too!). One way or another, we will hop off the train in Vienna on Saturday May 18, with our tandem.
Although we'll take time for sightseeing in Amsterdam besides (we hope) assembling the bike, and for about 24 hours in Berlin where we spend 2 nights and change trains, the real visit to Europe starts in Vienna with friends Jazz and Cordelia. We met them on a bike trip two years ago, while waiting for a ferry. Within minutes we were invited to stay with them in Oshkosh, where they both teach at the University of Wisconsin Oshkosh. Jazz is currently on a 4-month fellowship from the Fulbright Foundation to teach and do research in Vienna, and we are one of several families they will be welcoming into their temporary home there. Here's their New Year's card to give you a preview of our Vienna hosts:
The plan thus far is to spend 6 nights with Jazz and Cordelia in Vienna, then bike 375 km to Budapest over one week, do a little sightseeing there, then return by train or hydrofoil boat to Vienna for one more night before setting out on a 7-week trip west and north to the North Sea. After our short hop over to East Anglia, we'll bike back to Amsterdam for one more 3-night stay, then board the Holland America
Eurodam
for a cruise around the Baltic followed by a crossing of the North Atlantic that will take us to places we never thought we'd get to see, including Iceland, Greenland, and Newfoundland. Once we hit NYC we hop across the country with stops to see three of our four kids (the Tokyo-based one just didn't seem to fit into the line of travel) before returning back to Seattle on September 24.
We have a busy five months ahead of us. We hope you find the chance to follow us across the globe, and in depth across Europe. We hope to find ways to keep the blog reasonably up-to-date, but need to find computers along the way to do so. We will also have to stop having so much fun sightseeing, to find the time. So bear with us if we're not always posting the blogs on time.
Here's hoping all our readers find some Happy Trails themselves this summer!